primary education in Kenya
choir: Roberts Creek Community Choir
choir location: Roberts Creek, BC, Canada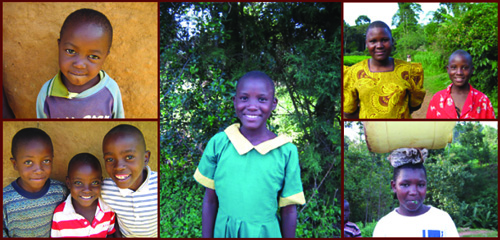 All our present donations and Song Circle fees go to our chosen cause; the sponsorship of the Isecheno Primary School  in western Kenya.  I learned of Isecheno Village, situated adjacent to the Kakamega Rainforest, while touring that forest in 2007.  The naturalist who guided us then was born and has lived all his life in Isecheno.
While wandering around this Luhya community after the tour, I connected to these charming people, observed their  standard of living, and viewed the school buildings.  I saw their needs first-hand and heard of their struggles through the words of a local teacher with whom I connected.
This naturalist /guide has remained as our e-mail contact for all the projects that we have initiated since in Isecheno Village.  He has formed a "panel committee" which includes the Head teacher of the primary school, to advise on all aspects of the project.  Since 2008, we have maintained a feeding program at the school for the orphaned children in this community, we have provided school and personal supplies for the same orphans and sports equipment for the school.
In December 2009, a water well and pump was installed at the primary school as our gift.  Now, an agricultural component will be added to the school year; the children and teachers will cultivate a plot of school land that will ultimately provide them with their own "hot lunch program" by growing beans and maize.  Now that there is a water source on site, tender plants can be watered by hand during drought.  Sustainability is our goal.
Our attention will next be focused on the scholastic; purchasing textbooks, teaching supplies and uplifting the needy children who have completed their primary education to a secondary school status.
All this is done by song.  Our Song Circles busk all summer long to raise enough funds to this worthy project.
We continue to change ourselves and the world one song at a time.
– Karen Stein, choir director